Furnace Repair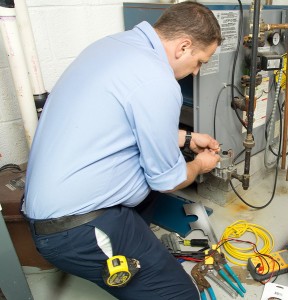 Besides changing the filter each month, there is little else homeowners can do to prevent their furnace from needing repaired at some point. Carroll Mechanical Services in Longmont is available any time day or night to quickly diagnose and repair the furnace in your home or business.
Common Problems Requiring Furnace Repair
Dirty Filter: If the filter is clogged by dirt, it will make the furnace work overtime to push adequate heat through the restricted pathway and could result in damage to the limit switch.
Ignition Problem: There are two types of ignition systems in modern furnaces; either hot surface ignition or intermittent pilot, both of which are controlled electronically and so prone to electrical issues.
Wear and Tear: Over time the mechanical parts will wear down and need to be replaced, such as belts, bearings and fan motors.
Thermostat Malfunction: When one room feels warmer than another or if the furnace is not turning on at all, the trouble most likely lies in a faulty thermostat.
To keep your heating system running smoothly all winter, it is essential to have your furnace inspected annually. Our technicians follow the most thorough inspection checklist in the HVAC industry- 24 items are addressed including important safety checks and detailed cleaning to keep the unit operating at maximum efficiency. Additionally, our annual maintenance plans are very affordable and will save you money by keeping your heating bills low and avoiding unexpected breakdowns!
If, however, the heat does go out for some reason, it is critical to call in a professional who has been trained in working with the gas components of furnaces. The experienced HVAC technicians with Carroll Mechanical Services will expertly repair the furnace in your residential or commercial property whenever needed- call us anytime!